SONOS PLAY:5 (gen 2) Wireless Speaker - White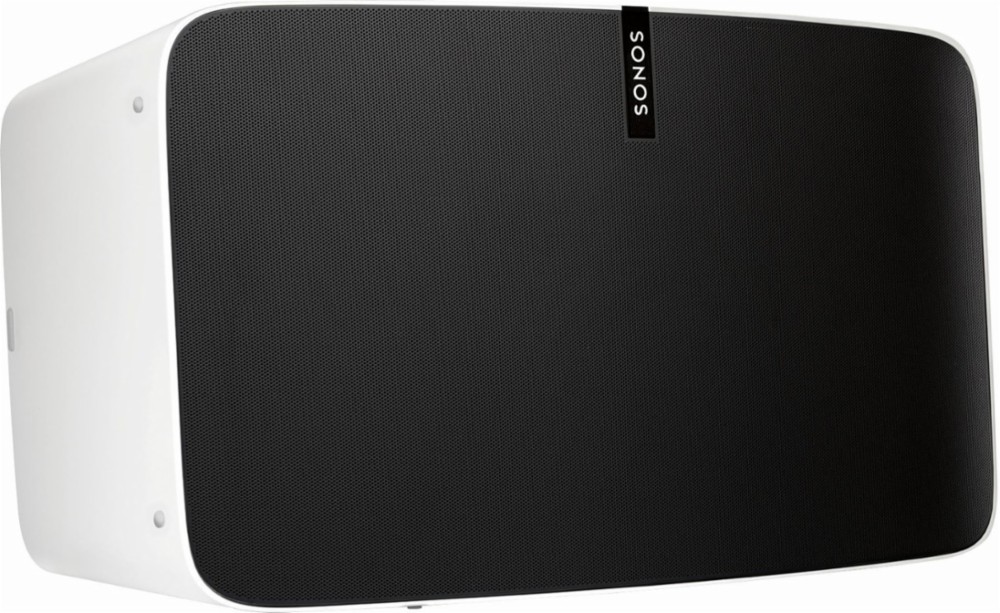 SONOS PLAY:5 (gen 2) Wireless Speaker - White
$399.00
The Sonos Play:5 is the ultimate wireless smart speaker for streaming music! The Sonos Play:5 has teamed up with Amazon Alexa to play, via voice-control, your favorite music, podcasts, audio-books with the highest quality and deepest bass. This smart speaker is for obsessive audiophiles and hard-core music lovers. Prepare for your socks to be knocked off.
Description
The Sonos Play:5 is the big guns of the Sonos family. This is the biggest and best-sounding speaker of the family because it was obsessively constructed to produce the best sounds you can find. Six Class-D amplifiers with six dedicated speaker drivers, three mid-woofers, phased speaker array and three tweeters fill a large room with pure, brilliant sound. The Sonos Play:5 is bold, pure, dynamic, intense with a deep bass that packs a punch.
This smart speaker has uncompromised sound whether set up vertically or horizontally, is convenient and wireless. Set this bad boy up over WiFI and you can stream over 80 services of the most popular streaming services in any room of your house. The Sonos Play:5 doesn't stop there. Connect multiple Sonos stereos to play corresponding music in multiple rooms, including the bathroom (stereo is humidity resistant), and don't forget to connect your Sonos Play:5 to any of your Amazon Echo or Dot devices to add to your smart home.
Specifications
Color: White
Over 60,000 hole-grille
Six Class-D digital amplifiers
Three tweeters to create crisp, clear high frequency response
Three mid-woofers that ensure faithful playback of mid-range vocal frequencies plus rich deep bass without distortion at high volumes
Audio line-in
Phased speaker array to create a wide stereo soundstage
Adjustable bass and treble controls
Connects to your smartphone, tablet, laptop via the Sonos app
Compatible with Amazon Echo and Dot devices
Multiple orientations
Line-in plug to play music from any audio device
Touch controls
Humidity resistant
---
Reviews
OWN THIS PRODUCT? SHARE YOUR THOUGHTS BELOW