Echo Spot Alexa Smart Display - White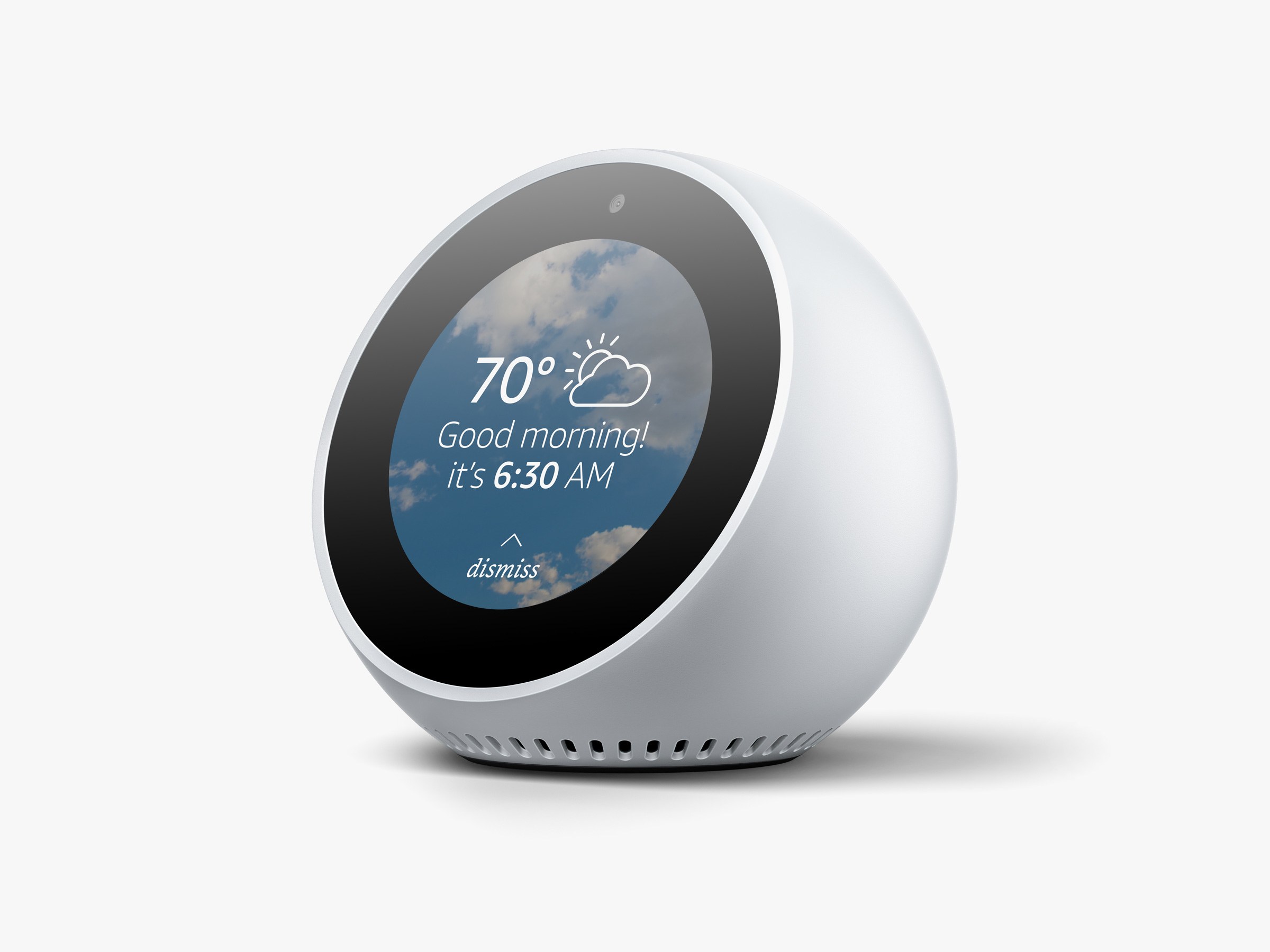 Echo Spot Alexa Smart Display - White
$129.99
Echo Spot brings you everything you love about Alexa! This all-new stylish and compact design shows you the weather, news with a video flash briefing, alarms and calendar events, lyrics with Amazon Music etc. Personalize your Spot with a fun and unique collection of clock faces and photo backgrounds from Prime Photos.
Description
Four microphones, beamforming technology, and enhanced noise cancellation features all in a small sleek design! With far reaching voice control, it can hear you from across the room - even while music is playing.
You can even combine more than one Echo and Alexa responds intelligently from the Echo you're closest to with ESP (Echo Spatial Perception).
Echo Spot can connect easily and quickly directly to speakers using a 3.5mm stereo cable or Bluetooth. Your preferene!
News and information you can see and hear! Alexa can show you a video flash briefing from CNN, Bloomberg etc.
Curious about the latest movie trailers or need a how-to video? Just ask.
Setting a timer in the kitchen to managing your family calender... Alexa can keep you on time to events and even prevents your dinner from burning!
Echo Spot can show you a live camera feed from the nursery or your front door!
Turn on the fan or dim the lights from the couch - all without lifting a finger.
You can even control multiple devices at scheduled times by using a single voice command, like locking the doors and turning off the lights when you go to bed.
Echo Spot is compatible with cameras, lights, TVs, fans, thermostats, garages, sprinklers and much much more.
Compatible with smart home connected devices including Ring, WeMo, Philips Hue, SmartThings, ecobee, Wink, and others.
When you're away from home, use the app to make a quick call or send a message to your family's Echo.
Quick and easy talkinga and messaging with the Alexa app on a smart phone with iOS 9.0 or higher, or Android 5.0 or higher.
Alexa has a skillset that is incredible for such a small package. She can order a pizza from Domino's, request a ride from Uber, track your fitness with Fitbit, control your TV with Dish and more.
To enable new skills, just ask Alexa. She's always there to help!
Specifications
color; white
4 microphones
wireless network connection
bing search engine
WORKS WITH AMAZON ALEXA, ARLO, HUE, NEST, SMARTTHINGS, WINK
works with apple ios and android
---
Reviews
OWN THIS PRODUCT? SHARE YOUR THOUGHTS BELOW